COMNETSAT 2013
CONFERENCE PROGRAM
NEW !
Date: 03 – 05 December 2013
Venue: Sheraton Hotel, Yogyakarta - Indonesia
Keynote Speaker by:
Thomas Widodo

President PT Dini Nusa Kusuma
Rodney Van Meter, Keio University

Networks of Networks of Quantum Repeaters




Rizkan Chandra

Director of Network & Solution, PT. Telkom Indonesia, Tbk
Welcome
The 2013 IEEE International Conference on Communication, Networks andSatellite (IEEE COMNETSAT 2013) promises to address current state of the technology and the outcome of the ongoing research in the area ofTelecommunications, Networks and Satellite Systems. Articles of interdisciplinary nature are particularly welcome. The IEEE COMNETSAT2013 covers theory, design and application of computer andtelecommunication, networks and satellite systems. During recent yearsthere as been an impressive increase in the use of networkedapplications and networks are now key resources in any informationsystem configuration. Wireless and fixed line networks complemented bya growing range of mobile devices are having a significant impact onthe way we run our lives and our business. The IEEE COMNETSAT 2013invites papers, original & unpublished work from individuals active inthe broad theme of the conference.

The conference proceedings will be published by IEEE and included inIEEE Xplore with ISBN number. Soon after the Conference, selectedauthors will be invited to publish the extended versions of theirpapers in various special issues of our forthcoming internationaljournals and edited research books.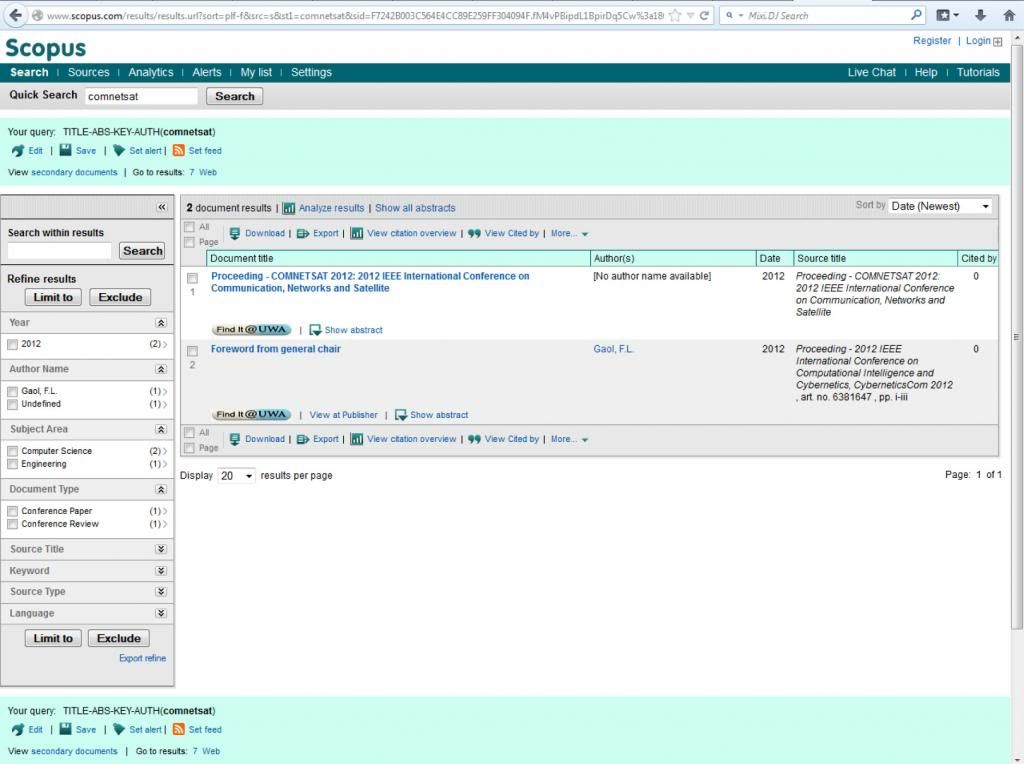 Paper Submission:
A full paper of not more than 5 pages including abstracts, figures, tables and references with A4 sized page, single spaced, Times Roman of font size 10, two columns format. Paper must be submitted electronically using the IEEE Xplore-compatible PDF via the website. All papers will be peer reviewed. At least one author of each accepted paper must register for the conference for the paper to be included in the program.
Important Dates:
Full Paper Submission Deadline : 30 September 2013 (Passed)
Notification of Paper Acceptance Deadline : 23 October 2013
Camera Ready Paper Submission Deadline : 05 November 2013
Early Bird Authors Registration Deadline : 06 November 2013
Authors Registration Deadline : 20 November 2013
Please be noted that, the full papers that submitted before 19 September 2013 will be reviewed and sent the review result on 30 September 2013.
Note: Early bird registration : After that period, the authors will pay as Late Registration.
Sponsors and Organizers :
IEEE COMNETSAT 2013 is sponsored and organized by IEEE Indonesia Section
Scope of conference
The scope of the Conference includes all the areas in
Telecommunications, Networks and Satellite Systems. Sample areas
include, but are certainly not limited to the following:


Adoption and diffusion of networking technologies
Business applications of telecommunications
Cross-border network-based information systems
Design and performance evaluation of new network application and systems
Designing, deploying and using networked systems in specialized
sectors (i.e. Health, Education, Manufacturing)
Effects of legislation and regulation on telecommunications
Emerging networking trends
Frameworks for wireless security
Grid, Cluster and Internet Computing
Internetworking Protocols
Location- and context-aware distributed systems
Management of telecommunications in organizations
Mobile computing, mobile networks, and mobile agents
Mobility and m-commerce issues
Network management contingency issues
Network Performance Analysis and Evaluation
Network pricing issues and strategies
Networking: architectures, services, routing, and applications
Outsourcing of networking and data communication services
Peer-to-Peer (P2P) Systems
Policy-based network management systems
Policy-based security systems
Quality of Service issues associated with networked systems
Security of interconnected systems
Sensor, mesh, and ad hoc networks
Standards and network interoperability issues
Strategic use of networking technologies
Success factors of networked systems
Pervasive Computing Environments
Telecommuting, remote access and Virtual Private Networks
Use of distributed services over wireless networks
Wireless and Mobile Networking and Computing
Advanced Communication Techniques
Advances in Satellite Payload Subsystems
Advances in Satellite Architecture
Advances in Satellite Subsystems and Components
Advances in Nanosatellites Networking
Advances in Launching Spacecrafts
Antenna Technologies
Communications Protocols
Earth Terminal Systems
Information Assurance
Integrated Services for Disaster Relief
Interactivity via Satellite
Intersatellite Links
Military Applications and Architectures
Modulation and Coding
Network Convergence
Network Protocols
Network Resource and QoS Management
New Navigation Services
Novel Satellite-enabled Services
Propagation and Mitigation Techniques at Ku, Ka and V-bands
Rapid Response Payloads
Regulatory and Spectrum Sharing Issues
Software Defined Radios
System Integration and Interoperability
Terrestrial-Airborne-Space Integration
Unmanned Aerial Vehicles and Satellite Communications